Sunbelt Multifamily Remains Red Hot, But, for Opportunity, Go West!

"Go West, Young Man, and Grow Up with the Country!"  The famous line from Horace Greeley's most famous editorial was about capturing and capitalizing on the opportunity and pioneering spirit in the West. Greeley's East was crowded and stagnant, and the best opportunities and growth lay west of the Mississippi. The availability of exciting, new opportunities and entrepreneurism in the West still applies just as much today, especially for investors.
It's no secret that Sunbelt markets have recently been a popular multifamily investment destination – particularly from Florida to Arizona [1]. Favorable trends in employment, demographics and business-friendly regulation have enabled strong in-migration and induced growth in residential demand, development activity, and profits. However, with all eyes turned southward, it's high time to refocus on the underappreciated and often undervalued markets in the Western U.S., which are benefiting from many of the same secular trends with added tailwinds of massive housing undersupply, appreciable barriers to entry, and greater scale. 
On a macro level, as Exhibit A shows, Western market growth rates in population, employment, wages, and rent have outpaced national averages significantly over the last decade and these trends are expected to continue over the next five years [2]. This is significant as young, eager, and mobile workers will follow jobs and settle in areas where high-quality employment and social amenities meet, which is present in prime Western cities, especially for Millennials and Gen Z. Outsized employment gains are being driven by growth in innovative, fast-growing industries. Recent data on venture capital activity shows Bay Area deal volume nearly doubling in 2021 to $120 billion from an all-time high of $62 billion in 2020. Seattle, in addition, tops the list of fastest-growing life science hubs for job opportunities, and Los Angeles, the global entertainment industry center, stands to benefit from a digital content creation industry projected to grow to $24 billion by 2027 from $12 billion in 2020.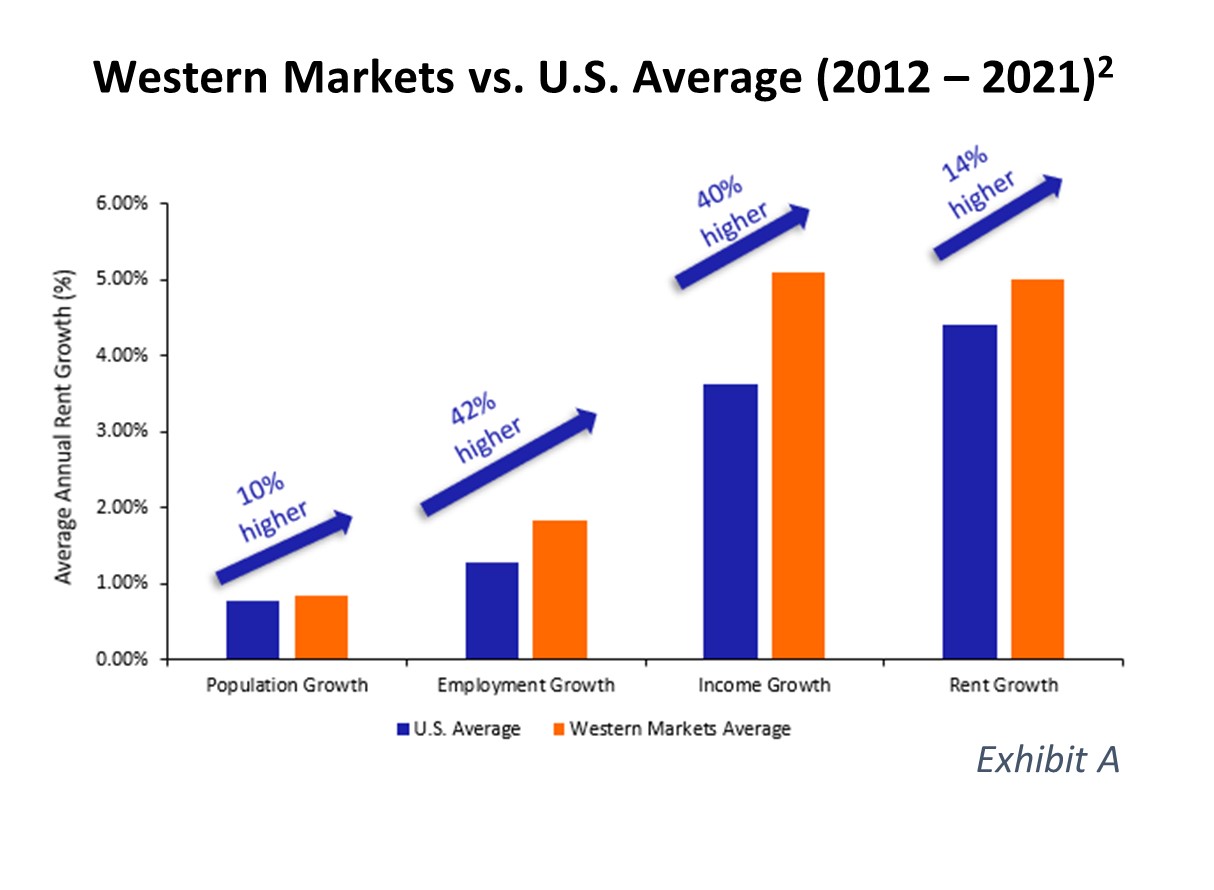 The most important demand driver in residential real estate is employment growth. Here, Western U.S. cities have seen growth rates on par with the Sunbelt but greatly outpaced in terms of gross jobs created. Numerous headlines point to recent historical growth in Sunbelt markets such as Nashville, for example, which saw employment growth of 17.5% from 2015 to 2019, but this equated to only 157,000 jobs added. While Los Angeles experienced job growth at a slower pace of 8.5%, the gross number of jobs added was more than twice as high as Nashville at 359,000. Similarly, Seattle grew employment by 250,000 and Denver by 174,000 [3]. Importantly, statistics also show that nearly half of those that moved to California in 2021 cited employment as their primary reason for moving, compared to only 26% of those that left. In addition, 53% of those that left California were over 55 years old, whereas 56% of those that moved into the state were of prime working age under 55. This data illustrates that the "mass exodus" from California is more nuanced than recent sentiment implies, and the demographic makeup of those moving in is more likely to gravitate towards multifamily.
The ratio of new jobs to apartment units created is another vital metric to understand supply/demand imbalance and thus the outlook for multifamily investment. Here, Western markets outshine – projected to average 13 jobs created per apartment unit delivered vs. the national average of 8 over the next five years [2]. This massive undersupply is increasing at the same time as attractive, higher-paying jobs bring young, educated workers to the region, creating an optimal environment for residential investment. For example, Portland is forecasted to create 10 jobs for every apartment unit delivered, while Austin is expected to create 5 jobs for each unit delivered during the same period [2]. This highlights both how well investors and local officials are meeting demand in Austin as well as the need for residential investment in the West.
The business-friendly nature of many Sunbelt state governments and regulatory regimes is often cited as a rationale for overweight investment allocation. Of the 14 Sunbelt markets included in our analysis, Green Street rated 12 of them as having "Friendly" or "Very Friendly" business climates while rating all the Western region markets as "Unfriendly", "Very Unfriendly", or "Average". But investors should not overlook the contrarian benefit of these "unfriendly" regions. While low taxes and low regulation are indeed investment friendly, they invite massive competition and new supply, whereas regulatory barriers in the "bluer" states with more complicated entitlement processes, for example, create advantages for owners and experienced developers and protect investors from the competition and new supply thereby potentially resulting in greater rent growth and investment returns.
Finally, as Exhibit B illustrates, the entire U.S. has seen a dearth of new construction over the last decade leading to an estimated housing shortage of nearly 7 million units – a condition that is particularly acute where governments have imposed barriers. California, the world's 5th largest economy, ranks 49th out of 50th in housing availability while also ranking 3rd in job growth, a seasonally adjusted 6.8% increase from February 2021 to February 2022. The net result is an extreme imbalance that will require large amounts of new middle-income workforce housing over the next decade and beyond.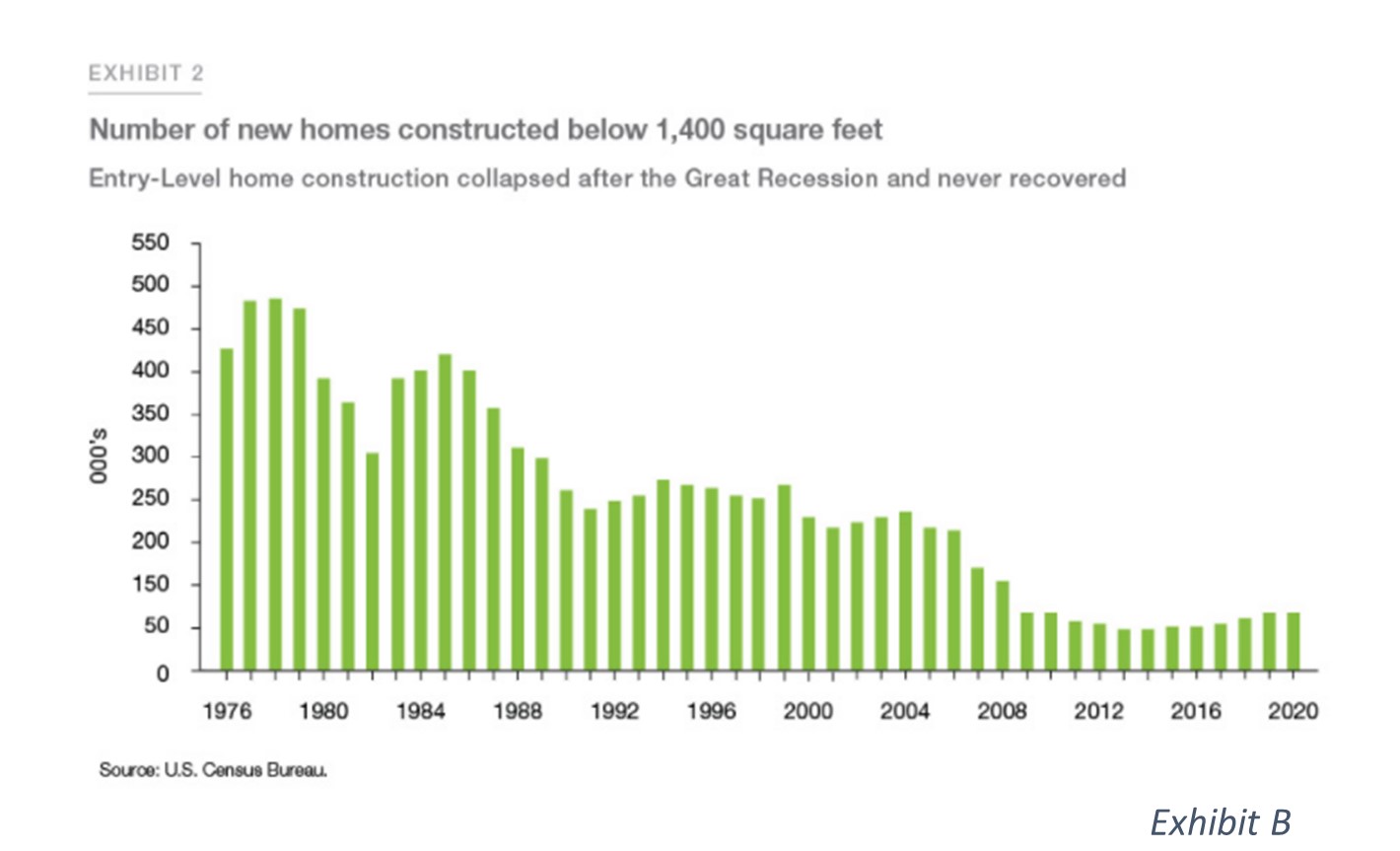 Ultimately, the Western markets represent not only a strong investment option on their own but also function as an exceptional geographic diversifier with significant potential upside and a differentiated set of uncorrelated risk factors. Strong economic, employment, and wage growth mirror the Sunbelt, and a severe need for both new and improved housing provides an opportunity to fill a market vacuum. The Bay Area and Los Angeles may be poised to resume their status as top performers, while emerging areas like Seattle, Portland, and Denver could continue their outperformance. The Sunbelt has been and likely will continue to be a solid but crowded option for investors building their real estate portfolio, but to paraphrase Greeley, for the unmatched opportunity, "Go West, investors, Go West!"
Footnotes/Non-Linked Sources:
[1] For our purposes, we classify Sunbelt and the Western U.S. as outlined below and recognize that there is a natural overlap. See below for a full listing of markets in the Sunbelt and Western regions:
Sunbelt Markets in this article are defined as: Atlanta, Austin, Dallas/Fort Worth, Fort Lauderdale, Houston, Jacksonville, Memphis, Miami, Nashville, Orlando, Palm Beach, Phoenix, San Antonio, and Tampa/St. Petersburg
Western Markets are defined as: Denver, Inland Empire, Las Vegas, Los Angeles, Oakland-East Bay, Orange County, Portland, Seattle, San Jose, and San Francisco. We also include Arizona and Texas in our definition of Western U.S., naturally overlapping with the Sunbelt but have separated them out for purposes of this analysis
[2] REIS Commercial Real Estate Analytics Platform
[3] CoStar Analytic Data Export
ABOUT THE AUTHORS:
Sean Burton
is CEO of Cityview, a vertically integrated multifamily developer and operator focused on workforce and middling income housing across the western US.
Rob Lester is head of Business Development and Capital Relations for Cityview.
Ryan Graf is a Senior Analyst at Cityview and a graduate of Texas Christian University, where he lettered as a student-athlete on the Horned Frogs football team.
DISCLAIMER:
Cityview is an Associate Member of TEXPERS. The views expressed herein do not constitute research, investment advice, or recommendations, and do not necessarily represent the views of Cityview or TEXPERS, and are subject to revision over time.
FOLLOW TEXPERS ON FACEBOOK, TWITTER, AND LINKEDIN FOR THE LATEST NEWS ABOUT TEXAS' PUBLIC PENSION INDUSTRY.
Share this post: