'The Gentle Art of Swedish Death Cleaning' is Looking for TEXPERS Pension System Members to Apply for Its Next Season in Austin

A documentary series is casting for individuals and families in Austin who need help organizing and decluttering their homes - and TEXPERS System Members have the opportunity to demonstrate the dedication of public employees and how securing a secure retirement affects their lives.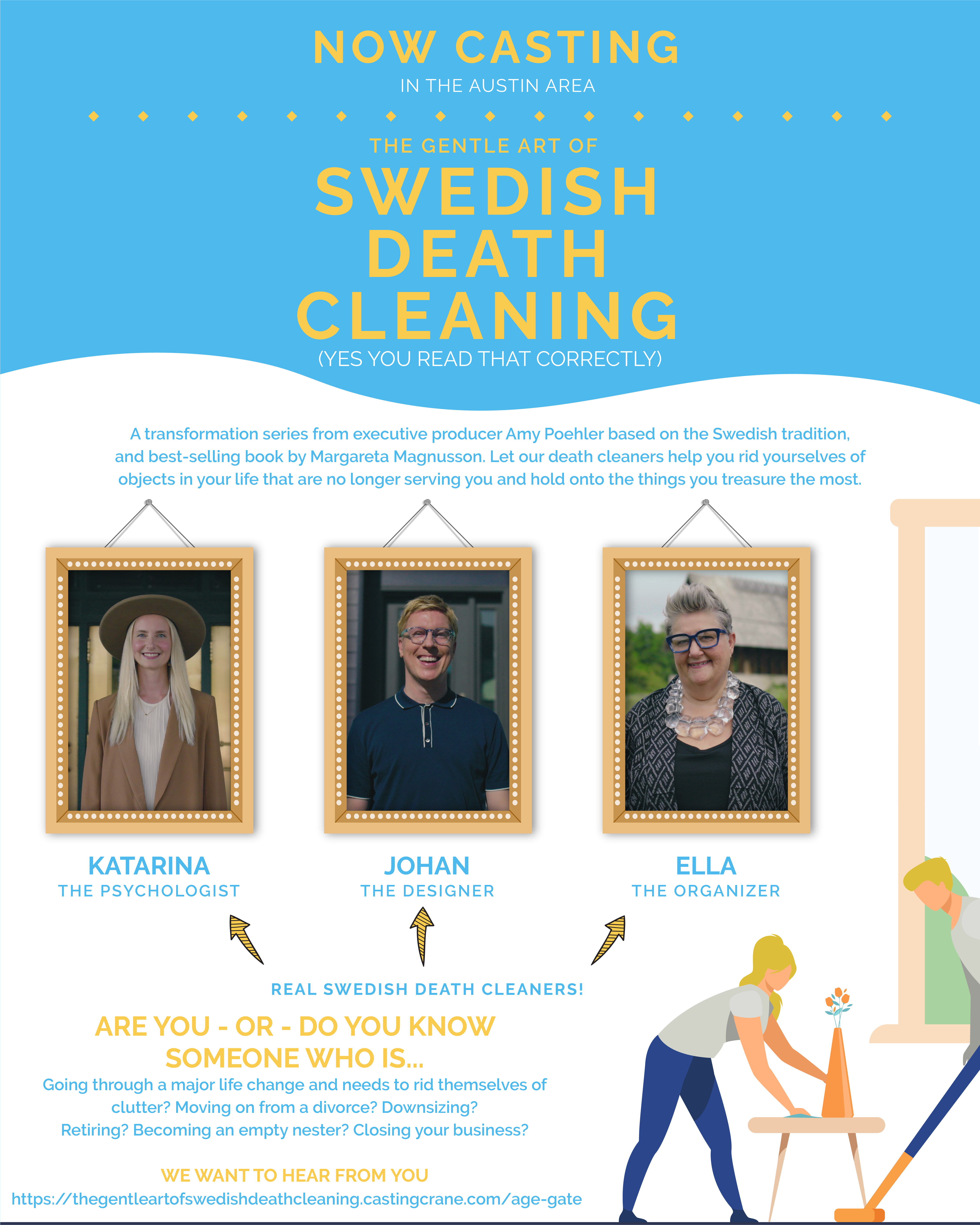 Actress and filmmaker Amy Poehler, known for her humor, is behind "The Gentle Art of Swedish Death Cleaning." Audiences might know for her time on "Saturday Night Live;" however, public employees might best know her from her TV series, "Parks and Recreation." The mockumentary sitcom aired on NBC for seven seasons between 2009 and 2015, earning Poehler a Golden Globe for her performance of Leslie Knope, a municipal administrator in the parks department of the fictional town of Pawnee, Indiana. 
She now not only produces "The Gentle Art of Swedish Death Cleaning," but serves as the reality series' narrator bringing her brand of wit as audiences follow "death cleaners" psychologist Katarina, designer Johan, and organizer Ella as they "clean out your crap so others don't have to when you're dead," as Poehler says. 
The "death cleaners" are invited into the homes of people from all walks of life. They examine why people keep things long after their useful life has ended. Their goal is to explain why it might be better to let things go. 
The series' first season is on the streaming network Peacock and was filmed and featured casts from the Kansas City metro. The show is a co-production between Poehler's Paper Kite Productions along with Scout, the company best known for Netflix's Emmy award-winning "Queer Eye." 
The team at Scout previously filmed in Austin for the sixth season of "Queer Eye;" and had such a positive experience with the city and the people of Texas that when it came time to determine where to find a cast for its next season of "The Gentle Art of Swedish Death Cleaning," it was "a no-brainer," according to a casing notice.
A casing rep says producers specifically seek individuals and families in Austin "at a crossroads in their lives, such as new empty-nesters, retirees, divorcees, or folks simply turning the page on a new chapter." 
The current season of "The Gentle Art of Swedish Death Cleaning" has not featured a public employee, according to the casting agent, which would make a nice tie-back to Poehler's time on "Parks and Recreation." The rep says they are looking for individuals and families to cast at all stages of life, not necessarily in retirement. Ages can range from their mid-40s and up. 
Expect the series to bring out those cast's backstories and grapple with big questions while taking a funny and often poignant look into what led to clutter-filled homes. The casting group is looking for great personalities to work with. 
"For pension systems, "The Gentle Art of Swedish Death Cleaning" provides an excellent platform for annuitants to discuss the considerations of transitioning into retirement life and a way to recognize the dedication that goes into working as a public employee," says Allen Jones, TEXPERS' director of communications. "TEXPERS hopes our System Members within the Austin area will consider sharing this unique opportunity with their pension annuitants."
If you live in the Austin area, within an hour's drive, have a compelling story to share, and are ready to face the items in your home that you haven't been able to yet, you can apply for consideration at https://thegentleartofswedishdeathcleaning.castingcrane.com/.
All 8 episodes of the first season of "The Gentle Art of Swedish Death Cleaning" are available to stream on Peacock.
Look for a more in-depth article in the upcoming edition of TEXPERS Pension Observer, the Association's membership magazine.
FOLLOW TEXPERS ON 
FACEBOOK
, 
TWITTER
, AND 
LINKEDIN
 FOR THE LATEST NEWS ABOUT TEXAS' PUBLIC PENSION INDUSTRY.
Share this post: