TEXPERS 2023 Summer Educational Forum
Sunday, August 13, 2023
,
7:00 AM
to
Tuesday, August 15, 2023
,
5:00 PM CDT
Category: Summer Forum
---

Forum Offers Education, Training and Networking to Pension Stakeholders
TEXPERS' conferences and forums bring Texas' key pension stakeholders together for education, training, and networking. The next time they will gather is Aug. 13-5, 2023, for the Association's Summer Educational Forum in The Woodlands. 
The forum starts with a pre-conference golf tournament at 7 a.m. at The Woodlands Country Club, located at 100 Grand Fairway Drive. 
Advanced Trustee training to fulfill state-mandated continuing education requirements will be held from 9 a.m. to 1:45 p.m. at the event venue, The Woodlands Resort Curio Collection by Hilton, located at 2301 N. Millbend Dr., The Woodlands, Texas, 77380. The registration fee is $225 for TEXPERS member retirement systems and employee group members and is $325 for non-member retirement systems. 
Trustees who have attended Basic Trustee Training or another course that covers the same content may attend Advanced Trustee Training. Advanced Trustee Training is different every time it is held and will cover various topics.
Forum attendees may pick up their badges or register for the event from 3 to 5:30 p.m.
The Summer Educational Forum officially starts Monday, Aug. 14. with an opening ceremony and a keynote speaker followed by a full day of general sessions and ending with a TEXPERS' members event at Forest Deck/Emerald Ballroom at the resort. 
Education and networking opportunities continue the next day, Aug. 15. 
Check back as our schedule fills out!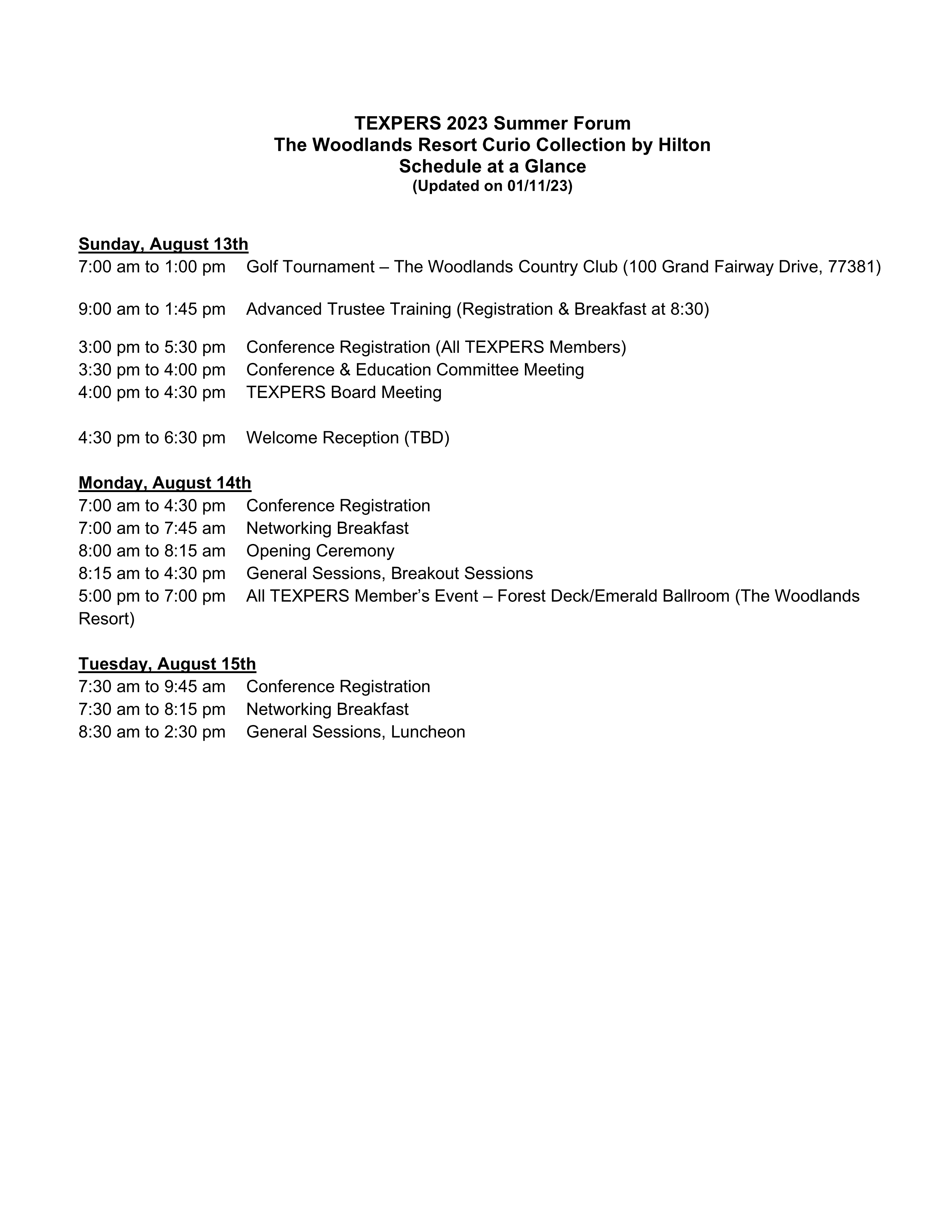 ---
Contact: [email protected]